Description
 HJS 200VX UTV
When your compare the HJS to all other comparable 200 UTV's on the market we believe you'll be convinced that this High Quality unit surpasses them in all in categories & features!  Features like Shaft Drive, All Steel hydraulic assist dump bed, Double A-Arm Independent Rear Suspension, McPherson strut front suspension, and GREAT optional features too!
Online orders with the "Rear Bench Seat" option will receive BOTH "Rear Bench Seat" & "Dump Bed"!
Local P/U & Ready2Ride orders can receive "Rear Bench Seat" option IPO Dump Bed and receive $200. credit/refund at P/U
FEATURES/SPECIFICATIONS:
HJS 200VX UTV
Forced air cooling
Engine oil cooling
4 Wheel Hydraulic Discs
McPherson Front Strut / Double A-Arm Independent Rear suspension
Front Winch Mount
3100lb winch with wireless remote (optional)
Turn Signals (Optional)
Impact resistant Folding Windshield (Optional)
Side View Mirrors (Optional)
Full Front Bench Seat w/under seat storage
Fold Flat Rear Seat (optional)
Roof top
dump bed
Steel wheels
Shaft drive
GREAT QUALITY! GREAT VALUE!  ORDER TODAY!
Available colors (subject to availability):
RED, GREEN, BLUE
*FREE STUFF*
Free shipping-"CRATED UNITS ONLY" (United States lower 48 states)

Free Tech help
Free DVD Owner's Manual & Parts Diagrams

CUSTOMIZED  WITH SPECIAL LIGHTING EQUIPMENT INSTALLED FOR LOCAL AUTHORITIES! (SEE VIDEO BELOW)
[kad_youtube url="https://youtu.be/ZrCnIF2EBEA" width=640 height=480 ]
The pictures provided on this website are only a representation of the actual UTV being sold. On occasion the factory may without notice make minor upgrades to the UTV that are not represented in the pictures provided. H&R Enterprise will make every attempt to keep all of it's pictures, specifications, and color changes as up to date as possible. At no point will H&R Enterprise be held liable for factory authorized changes in design, specification, or color variations.
Having difficulty paying? Don't want your Credit card on the WEB! We gladly except all major Credit/Debit card payments over the phone.
Call (877) 937-2666 To speak with someone on our sales team.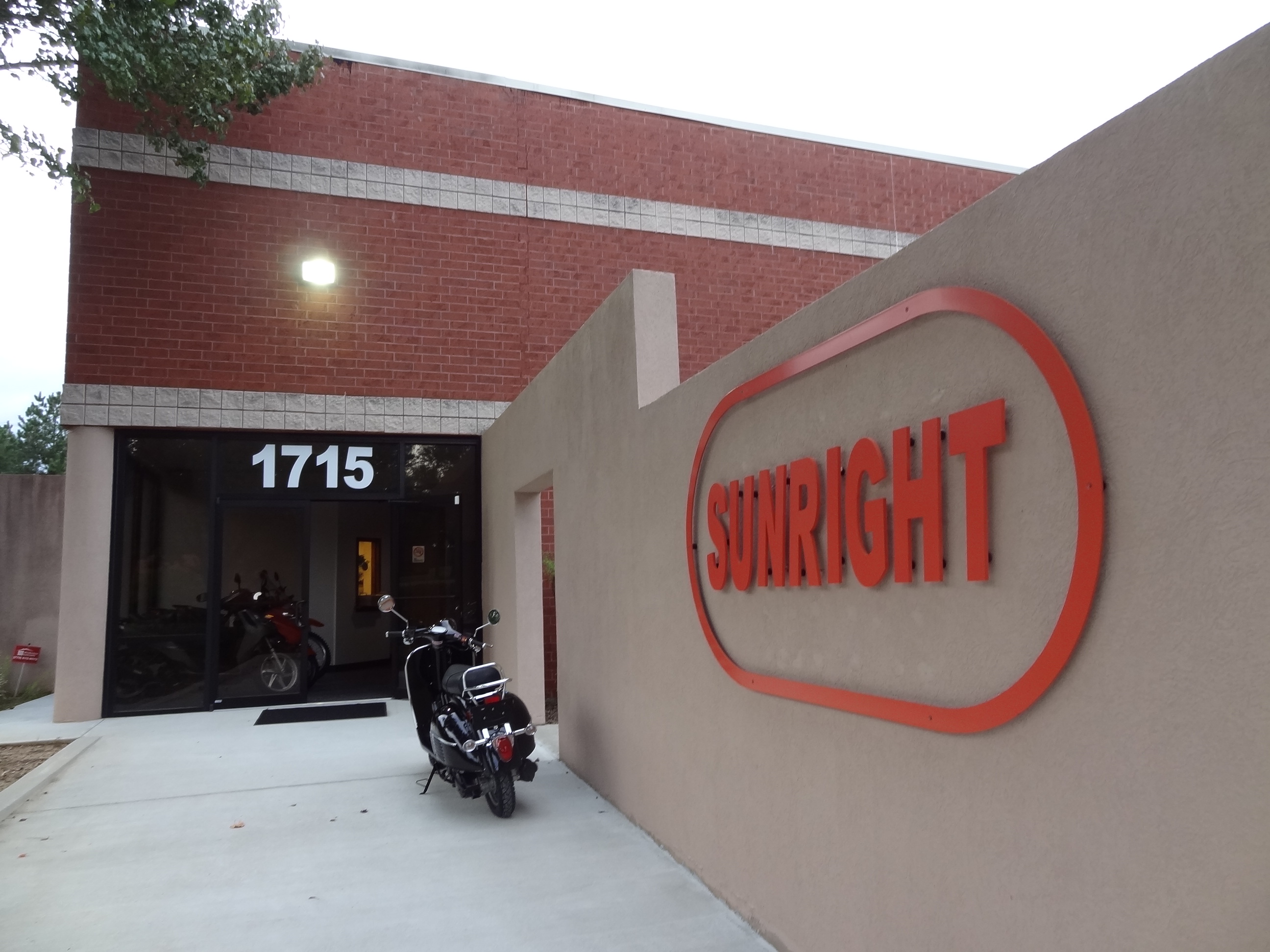 About Sunright
Sunright International operates as an importer, distributor and developer of motor vehicles and motorsports products from China. By partnering with leading manufacturers that offer the best-in-class performance, reliability and innovation, Sunright has established itself as a trusted source for Chinese motorsports products.Sunright International of America was established in 1998 and is headquartered outside Atlanta, GA.
Full Specifications
| | |
| --- | --- |
| Length x width x height | 90.7×54.3×71.7 in |
| Wheelbase | 63.8 in |
| Dry weight | 771 lbs |
| Front wheel | AT24×8-12 |
| Rear wheel | AT24×8-12 |
| Front brake | Disc |
| Rear brake | Disc |
| Front suspension | McPherson suspension |
| Rear suspension | Dual-A arm Independent Suspension |
| Engine type | Single cylinder,Four stroke,Forced air cooling+oil cooling |
| Displacement | 177.3 cc |
| Max. power | 9.4 hp / 6500-7000rpm |
| Max. torque | 8.1 lb.ft / 4500rpm |
| Fuel consumption | 290g/ hp.h |
| Compression ratio | 8.8:1 |
| Ignition | CDI |
| Starting system | Electric Start |

If you chose "SHIPPING" your unit will require some assembly. Here is a quick rundown of what you can expect to assemble when you get your unit!
All engines/gear cases are filled with shipping oil that needs checked prior to starting and changed after approx. 4-8 hours of service!
UTV'S – Typical installation includes installing 4 upper shock bolts, mount wheels, install upper portion of the roll cage, install exhaust muffler with 2 bolts and 4 springs, install bed frame and mount plastics, install battery underneath drivers side seat and connect winch powers to the battery as well. Red wire is positive, Black wire is negative, install seats, mount steering wheel, install front hood plastic and bumper and bumper cover. You will need to change the shipping oil, differential fluids front and rear, flush and change radiator coolant. It is very important to check all bolts and nuts to ensure that they are tight on the whole machine.

Parts – Parts purchased from us may be returned within 15 days of purchase. We require that the product is in original packaged NEW condition. Customer is responsible for shipping costs to send it back. Original shipping is not refunded and there is a 20% restocking fee for all parts returns.Crated Units – Crated Units purchased from us may be returned within 3 days of delivery as long as the unit is in original packaged NEW condition. Customer is responsible for shipping costs to send it back. Original shipping is not refunded and there is a 20% restocking fee. Please ship to:H&R Enterprise – 2893 US Hwy 22 SW; Washington C.H., OH 43160Assembled Units – Assembled Units may NOT be returned once the shipping service has picked the unit up or customer has taken local delivery of the unit.