Description
Local Pickup and Local Delivery orders are Fully Assembled and Ready 2 Ride!
Additional shipping surcharge applies to some states and disclosed at checkout prior to any payment made.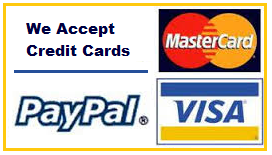 Use Paypal if your method of payment will be a Credit Card!  You will be directed automatically to the Paypal's secured  site to make a credit card or Paypal payment! You may then choose to return back to our site to surf some more!
*FREE STUFF*
Free 90 day "Limited Manufacturer's" warranty

Free shipping – "CRATED UNITS ONLY" (United States lower 48 states)

Free lift gate service
Free Tech help
Free tool kit
The pictures provided on this website are only a representation of the actual Go-kart being sold. On occasion the factory may without notice make changes to the ATV that are not represented in the pictures provided. H&R Enterprise will make every attempt to keep all of it's pictures, specifications, and color changes as up to date as possible. At no point will H&R Enterprise be held liable for factory authorized changes in design, specification, or color variations.Having difficulty paying? Don't want your Credit card on the WEB!  We gladly except all major Credit/Debit card payments over the phone.Call (877) 937-2666 To speak with someone on our sales team.


Model No:

SPIDER 110cc 49FM5-E

Engine type:

110cc 4 STROKE All Terrain Vehicle (ATV) Go – Kart

Seat:

Adjustable Bench

Transmission System:

 

Automatic with Reverse

Cooling:

Air Cooled

Max Speed:

30-35MPH (Depends on the condition of road and driver's weight)

Exhaust:

Pipe Muffler

Starter System:

 

Electric Start (CDI)

Brake System:

 Front & REAR Disc

Tire Size:

FRONT – 13×5-6″ REAR – 14.5×70-6″

L x W x H:

69″ x 48″ x 55″

Gauges:

Front HEADLIGHT & TAILLIGHT

Drive:

Chain & Gear Rear Driven

Battery:

12v.6.5Ah

Gas Tank:

0.5 Gallon

Range:

10 miles

Overall Weight:

6.5″ 295 LBS.

Net Weight:

287 LBS.

Weight:

N.W:652.5/G.W:690.2 LBS.

Climbing:

25 UP

Frame Work:

STEEL

Regulatory:

OFF ROAD USE ONLY..!!

Other Features:

STEEL MUFFLER, CHAIN & GEAR DRIVE, STURDY STEEL FRAME & BODY, TOOL KIT FOR ASSEMBLY

If you chose "FREE SHIPPING" your item will be crated and will require some assembly. Here is a quick rundown of what you can expect to assemble when you get your unit!  All engines/gear cases are filled with shipping oil that needs checked prior to starting and changed after approx. 4-8 hours of service!
Dirt Bikes / Pit Bikes – Typical installation include mounting up the handlebars, installing the rear shock,  mounting up the front tire, and another small item or two.
ATVS / 4 Wheelers – Typical installation include mounting all 4 tires, mounting up the handlebars, tie rod ends onto the spindle in the front, shock top bolts, install battery. Sometimes you will have to install some small things like the racks, gas cap, etc. VERY EASY ASSEMBLY!
Scooters / Mopeds – Depending on what unit you get, here are some things you might have to mount on the scooter, Battery, Mirrors, Rear Storage Box, Windshield, Front Tire. Typically all scooters come fully assembled and you only have to put on a couple small things to make it complete.
UTV'S – Typical installation includes installing 4 upper shock bolts, mount wheels, install upper portion of the roll cage, install exhaust muffler with 2 bolts and 4 springs, install bed frame and mount plastics, install battery underneath drivers side seat and connect winch powers to the battery as well. Red wire is positive, Black wire is negative, install seats, mount steering wheel, install front hood plastic and bumper and bumper cover. You will need to change the shipping oil, differential fluids front and rear, flush and change radiator coolant. It is very important to check all bolts and nuts to ensure that they are tight on the whole machine.

Parts – Parts purchased from us may be returned within 15 days of purchase. We require that the product is in original packaged NEW condition. Customer is responsible for shipping costs to send it back. Original shipping is not refunded and there is a 20% restocking fee for all parts returns.
Crated Units – Crated Units purchased from us may be returned within 3 days of delivery as long as the unit is in original packaged NEW condition. Customer is responsible for shipping costs to send it back. Original shipping is not refunded and there is a 20% restocking fee. Please ship to:H&R Enterprise – 2893 US Hwy 22 SW; Washington C.H., OH 43160
Assembled Units – Assembled Units may NOT be returned once the shipping service has picked the unit up or customer has taken local delivery of the unit.
REMEMBER – Safety 1st
Ride Safe, Ride Smart
There's only one thing better than getting ready to ride your ATV, UTV, Dirt Bike, or Scooter – and that's learning how to do it safely. We want to help you to make the right decisions about your riding. We want to help you choose the right unit for your skill level, assist you in making the right judgments when riding and determine the proper helmet and equipment that will keep you as safe as possible.
Remember: safety starts with the rider. Read your owner's manual and safety materials.
Be a Responsible Rider
Riding an ATV, motorcycle, UTV and dirt bike is an exercise in responsibility to yourself, to others, to the environment and to the sport. So remember: wear a helmet, eye protection and protective clothing whenever you ride. Never ride under the influence of drugs or alcohol, inspect your bike before riding & read your owner's manual. Always obey local laws, use common sense, and respect the rights of others when you ride. Make sure you have a proper license when riding on public roads, and never modify your motorcycle's exhaust system.
RIDE SAFE..!!
 

 

Engine  Type:

150CC,Air cooled, 4-stroke, cylinder, automatic

 

Dimension

 

Start Type:

Electric/Kick start 

Battery:

12V/4Ah

Transmission:

Chain Drive

G.W.(Lbs.):

374

Engine Gear:

Fully Auto with reverse

N.W.(lbs):

330

Shift Gear:

Hand Shift

Max Loading(lbs):

140

Max Torque:

7.5N.m/5000-5500r/min

Overall Size(inch):

62×44.5×43.3

Wheelbase(inch):

43.52

Carton Size(inch):

59×32.50×31

Ignition:

CDI

Seat Height(inch):

4

Fuel Capacity(L):

4.2

Ground Clearance(inch):

12

  

 

Chassis 

 

Front Hand Brake:

Drum 

Rear Foot Brake:

Hydraulic Disc 

Tire Front:

21×7-10

Tire Rear:

20×10-10

Suspension Front(inch):

13.4

Suspension Rear(inch):

14.2

remote control(Yes/No):

No

Speed Limiter(Yes/No):

Yes

Engine kill switch(Yes/No):

Yes
The ATV Safety Institute's Golden Rules:
Always wear a DOT-compliant helmet, goggles, long sleeves, long pants, over-the-ankle boots, and gloves.
Never ride on paved roads except to cross when done safely and permitted by law – another vehicle could hit you. ATVs are designed to be operated off-highway.
Never ride under the influence of alcohol or drugs.
Never carry a passenger on a single-rider ATV, and no more than one passenger on an ATV specifically designed for two people.
Ride an ATV that's right for your age.
Supervise riders younger than 16; ATVs are not toys.
Ride only on designated trails and at a safe speed.
Take a hands-on ATV RiderCourseSM and the free online E-Course. Visit ATVsafety.org or call
800.887.2887.