Simple Operation, a push of the button, and the quiet Red Power Hydraulics raise and close the door.
Two Powerful cylinders with special bearings that open the doors fast with less moving parts.
"One-Piece" All-Steel Doorframe, provides a canopy when in the open position.
Extra Strong, Self Supporting Subframe adds additional strength to the building structure.
Easy to insulate and install, makes for a weathertight door system!
Very low maintenance. Schweiss offers the best, most reliable Hydraulic & Electrical System on the market.
Look no further, you've come to the right place! At Schweiss, you have choices! We'll help you choose the right door for your building. At Schweiss Doors, there are no secrets, no hidden costs and best of all no hassles!
You can save thousands of dollars – that's right, thousands ! ! !
By contacting Schweiss doors before you build and by getting the door and buildings specs and other important information needed, we can give you a quality and an affordable hydraulic door system
NEW SCHWEISS "WRAP-AROUND" HINGES
Schweiss's engineering department didn't only wrap its head around the hydraulic door hinges, they went a step further and came up with a robust, greasable hinge with a removable hinge pin; and even better yet, a user-friendly hinge design that allows customers to grease their door hinges from the underside of the doorframe.
Hinges can be greased from underneath the door without removing the top weather seal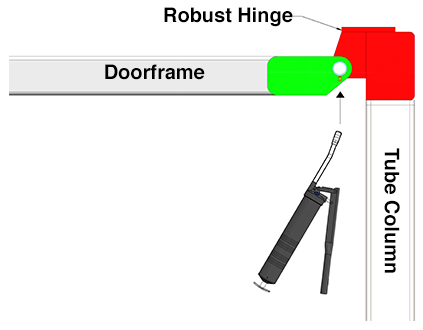 SCHWEISS HIT A HOME RUN WITH ITS NEW
DESIGN HYDRAULIC DOOR HINGES
"NEW" ROBUST HINGES… ONLY FROM SCHWEISS
Grease fittings on every hinge
Removable hinge pins
Once the customer sees our hinges…
IT'S AN EASY SELL!
Wrap-Around Hinge Brackets Connect directly to the vertical push tubes for more strength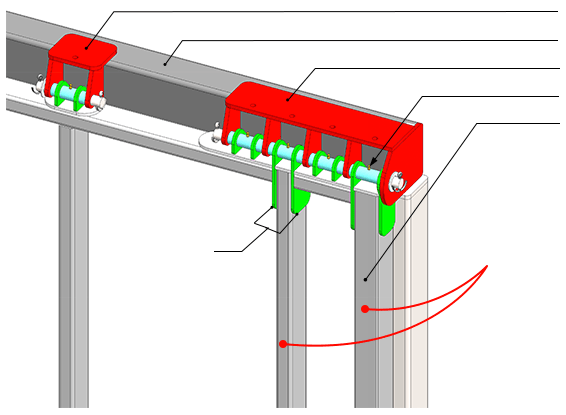 HINGE ASSEMBLY BREAKDOWN
Robust Center Hinges
Tube Header
Robust End Hinges
Grease Zerks On All Hinges
Doorframe
"Hands Down Schweiss Builds a
Better Hydraulic Door"
DOUBLE PUSH TUBES
The advantage of double push tubes is that forces of the hydraulic cylinders are evenly distributed to the doorframe and the new wrap-around hinges!
LEARN MORE ABOUT THE "NEW" SCHWEISS HINGE
All-Steel Doorframes Are The Best!
All-steel welded doorframe – Clean / Strong design… No Wood, no screws
Stronger greasable hinges with removable hinge pins… Superior design
Faster / Bigger / Better cylinders… With spherical bearings
Better, safer hydraulic design… Many safety features
Powerful gear driven hydraulic pumps… Better, quieter, longer lasting
Schweiss custom designs each and every door to fit your aplication
when using windows, walk doors, sheeting, and insulation
Schweiss Never Uses Wood on Their Hydraulic Doorframes
A 90′ x 20′ Hydraulic Door
Go With…SCHWEISS A Name You Can Trust
See it OPEN!… CLICK HERE!
Save Thousands of Dollars!
Only 6″ of headroom required, so that means less building costs.
Less Moving Parts = less maintenance!
On-time delivery and no hidden tax or shipping costs.
Superior Design
Powerful, yet simple design. Our hydraulic doors move smoothly between positions, due to thehigh-quality electric hydraulic pump system.
Our One-Piece Hydraulic Doors come complete with built-in framework – so you benefit from easy installation, not to mention additional building strength!
Spherical bearings reduce stresses on the cylinders at the pin points.
Safety First!
Built-in safety features prevent your hydraulic door from closing unexpectedly.
At Schweiss, we are careful to educate and inform our customers of all standard safety precautions.
Security? No Problem! Auto locks are not just included, but actually built in to the door design itself.
Worry Free, All-Weather Friendly
Pivots at the top, swinging open to create a shade canopy in front of your building.
Air flow when you want it, seals weathertight when you don't!
Popular Video!"Parking in front of your Door"Comparison Video!
Fantastic features, no surprises, and just the facts – that's Schweiss Doors!

CONTACT US TODAY TO GET STARTED ON YOUR HYDRAULIC DOOR PROJECT AND JOIN OUR GROWING LIST OF SATISFIED CUSTOMERS!

WITH A SCHWEISS BRAND DOOR

YOU GET MORE!
---
SCHWEISS BIFOLD DOORS KEEP GETTING BETTER!
WITH "THE NEW" LIFT STRAPS & AUTOLATCHES…
INTRODUCING the
STRAP LATCH
AUTOMATIC LATCH SYSTEM
• NO CABLES
• NO CLAMPS
• NO PULLEYS
• SIMPLE DESIGN
"NOW AN ALL-STRAP DOOR"
ADVANTAGES OF THE AUTOMATIC STRAP LATCHES
This is what every door owner wants and needs. Unlike other latch mechanisms, the new design will firmly hold the door against your building in all positions; securing the door when open/partially open and will firmly lock the door when closed. It will offer added protection from wind gusts while the door is in any position during operation.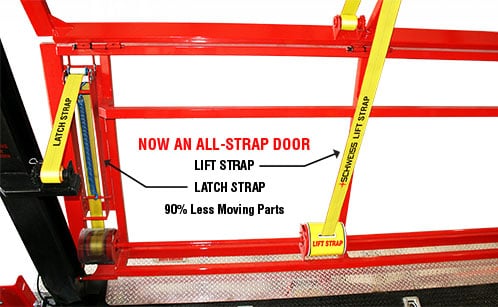 NOW AN ALL-STRAP BIFOLD DOOR
Schweiss Doors is introducing an all-strap bifold door! Straps do the lifting and now straps do the latching too! The simplicity of the new latch strap is truly amazing! Schweiss did away with all the cables, chains, sprockets and pulleys; and it now has 90 percent less moving parts. This is a real game changer in the bifold door world! It doesn't get any better than an all-strap door.
THE STRAPS DO ALL THE LATCHING
Straps secure the door in the open position
Straps secure the door in the closed position
Adds protection from wind gusts while in operation
Latch Straps are rated for 29,000 pounds
"The concept is so simple… I can't believe we haven't thought of this before!"
Schweiss revolutionized Bifold Doors with the introduction of the Patented Lift Straps & Auto-Latches
Bifold Doors have been around for years, but thanks to
Schweiss Doors foresight, they are 100 times better now!
Calls are coming in from all styles of cable door owners asking
"Can you convert our cable-liftdoors to the 'Schweiss liftstraps and autolatches?'"
That's a strong statement! No matter the make, model or manufacturer of the door
they own, they can see the obvious: Schweiss Liftstrap Bifold doors are a safer,
faster, and better solution to cable doors.
Ninety-nine percent of the Schweiss bifold door customers are now demanding the
strong patented polyester lift straps. For years, bifold doors were lifted and lowered by
the slow and unsafe conventional means of outdated steel cables, that still have a tendency
to fray, overwrap, and break.
Once you read their strong testimonials below, you'll ask yourself. . .
"Why would anyone ever consider purchasing an outdated cable door,
when Schweiss Doors is years ahead of the competition?"
STRAP TESTIMONIALS
Below are testimonials and comments from customers who had outdated, older style cable lift doors that have been converted to the "New Liftstraps". . . And happy customers who have purchased the number one selling lift strap doors.
| | |
| --- | --- |
| --- | --- |
| "The straps run the door up faster and safer and I like the 10-year guarantee." | "I'm thrilled with liftstraps, they're great, and they open my door 10 times faster than before. I absolutely will recommend them to everyone." |
| --- | --- |
| "We also like the convenience of the liftstraps being faster than the old cables on our door." | "I really like the liftstraps and autolatches. They definitely lift the door faster and that's one reason why I got them." |
| --- | --- |
| "We were having some trouble with frayed cables. I'd recommend liftstraps to anyone." | "Straps are nicer than cables. We had issues with older cables. My door goes up a lot faster." |
| --- | --- |
| "I was replacing cables that were always fraying and hoping for more door speed, which the straps give me." | "I do like the liftstraps. they're a lot less maintenance, faster and quieter." |
| --- | --- |
| "The decision to get liftstraps on my bifold door was more of a safety issue for me." | "The cables wouldn't spool the way our door was set up 50 years ago. It also had unlevel lift and caused problems. The straps are a really good solution." |
| --- | --- |
| "We're having zero problems now with the liftstraps." | "Cables were breaking on our big hangar door and we knew the lift straps were a better system." |
| --- | --- |
| "I'm very happy with the liftstraps and I wouldn't be without the auto latches." | "I can't say enough about your liftstraps, I wish I'd done it originally." |
| --- | --- |
| "So far so good on the strap conversion, I'm very happy with it." | "Our door with liftstraps now works really well – a 100 times better than before. Our cables broke on us and that was a mess." |
| --- | --- |
| "The straps are faster and just keep feeding up with no problem. I'd recommend them." | "A lot of guys are coming to look at our door. I'm sure you'll be selling more Lift Straps, we like 'em!" |
| --- | --- |
| "The straps are a 1000 times better than cables. My cables were breaking and keeping them adjusted was a big hassle – it was not a safe deal. I'm very pleased with the liftstraps and would recommend them to anyone." | "We were having troubles with the cables and replacing them once a year. Cables were difficult to adjust to make them lift equally on each side. The straps are lifting our doors smoother and faster now." |
| --- | --- |
| "We converted to liftstraps for reliability and aesthetics." | "The liftstraps work good and lift faster – the cables were so slow, the door works great now." |
| --- | --- |
| "The straps were pretty easy to install. They are quieter, quicker and safer, and the safety shield system is really nice. I'm real happy with it." | "The straps are rated for so much more strength, and now my door opens faster! We wouldn't order a door without "Lift Straps on them, they are working great." |
| --- | --- |
| Now you have read their strong testimonials above, you'll ask yourself… | "Straps are the only way to fly – no noise, no creeps, no crunches. Cables wear out." |
| --- | --- |
"Why would anyone ever consider purchasing an outdated cable door, when Schweiss Doors is years ahead of the competition?"
Glass Cladding – It's More than a Door!
Twin 40'x40′ Bifold Doors
Whats New in the Bifold Door World
Everybody wants the door with the Lift Straps
No More Cables & Pulleys
Eliminates Adjustments
Faster, Safer, Quieter, & Longer Lasting than traditional cables
10 Year warranty
Straps are Rated for 29,000 Lbs. each
Customers are LOVING THE DOORS WITH THE LIFT STRAPS
SCHWEISS found a way to use the straps on the Auto-Latches
Introducing the "New Latch Strap"
Pulls the door tight to your building
Weathertight seal
No more messy cables and clamps to deal with
BUY SCHWEISS New Style Auto Latches… with Remote Control
Bifold Advantages
More lift points mean a better safety factor
Door folds in half giving it strength
Clean look with the internal trusses
Doors lift upward, not outward saving you space in front of your building
Doors shed water in the open position due to the natural slope
Proven design that keeps on working!
Schweiss Has Taken the Bifold Doors to a New Level